Tree Pruning & Trimming Charlotte, NC
BBB Accredited, Free Estimates. Please Call 704-737-8771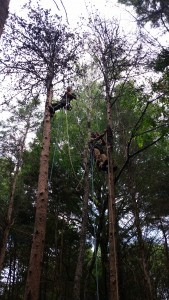 A picture of our tree climbers.  They are the first one's up the tree to delimb it.  Live in a neighborhood where your neighbors aren't so friendly and you have to worry about who's tree caused what and who's insurance has to pay for what.  Call us before the tree falls the wrong way, your neighbor will appreciate it.  For safety reason's, you're tree may need to be delimbed first. Absolute Tree Experts can provide a sense of relief to both you and your neighbor.
Pruning is a horticultural practice that alters the form and growth of a plant. Based on aesthetics and science, pruning can also be considered preventive maintenance. Many problems may be prevented by pruning correctly during formative years for a tree or shrub, especially to promote plant health.
Pruning large established tree's can be very difficult, and should be done by qualified tree care professionals. At Absolute Tree Experts we have the proper equipment and we consider the natural form of large trees whenever possible. Skill and knowledge to prune trees are critical and timing can sometimes be even more crucial to the health of the tree.